---
Posts: 46
Joined: Tue Oct 07, 2008 12:46 pm
I'm up for it Alice! Is anyone else? I think we should try Nicholson Square! x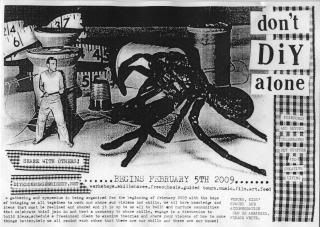 A GATHERING AND SYMPOSIUM CELEBRATING RADICAL DIY CULTURE & CREATIVE LIVING!
EDINBURGH-WIDE, FEBRUARY 5-8th 2009!
DIYEDINBURGH@RISEUP.NET
WOULD YOU LIKE TO ORGANISE AN EVENT?
---
Posts: 1113
Joined: Sun Nov 23, 2008 10:16 am
Location: Edinburgh!
Contact:
Sounds fun. Rock and roll!
Mike

Dawnsio 'mlaen i'r gwres prynhawn a rwy'n addo erbyn yfori byddai wedi mynd, hwyl fawr i pawb, hwyl fawr i pawb...
---